Richmond House
Nearly 100 years ago an important house in the centre of Twickenham was pulled down. Part of the ground was used to widen King Street (the main road running through Twickenham) and a private developer built a line of shops with flats above.  A swimming pool and roads took up the rest of the site and the house and its history disappeared from people's memories, apart from a few references to it on the Twickenham Museum website.  The house was called Richmond House and it was situated on 4 acres on the banks of the Thames opposite Eel Pie Island and between King Street, Water Lane and Wharf Lane in Twickenham.
For the first time, thanks to funding from the Heritage Lottery Fund, Richmond House's memorable past has been researched in some depth and brought together in a booklet recording the stories of the house and the lives of its inhabitants.
Richmond House's history started 350 years ago when a man called Edward Birkhead lived in the house.  He was a Serjeant at Arms in Parliament and astutely purchased land, houses and leases in Twickenham, in particular along the banks of the Thames.  His family later sold land which is now part of both Marble Hill House and Strawberry Hill House. Birkhead took part in Oliver Cromwell's funeral, which apparently took 7 hours to cover one mile, and shortly afterwards had to retire because of ill health.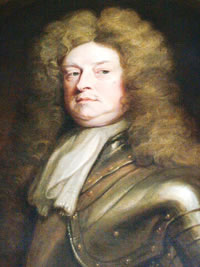 The house passed from the Birkheads to Francis Newport, 1st Earl of Bradford (pictured right, courtesy of Trustees of Weston Park Foundation) and over 30 years he and his sons built up an astonishing art collection, most of which is still in existence in Weston Park in Shropshire, and is considered of international importance.  The 45 years that Richmond House was in the Newport ownership must be considered the golden age of the house when it was at its most magnificent. It took nearly 30 cart loads to transport the 172 paintings up to Shropshire, a collection which included 13 by Van Dyck, 23 by Sir Godfrey Kneller, 4 Lelys, 1 Michelangelo and 1 Holbein (now in the British Museum).
In its 350 year history more than thirty families lived in Richmond House, some for only a few months, others for decades, but each and every one of them, too numerous to mention, played a part in the history of the British Isles, for example at the two extremes of ownership by taking part respectively in Cromwell's funeral and by founding the Chelsea Football Club.  One family owned Fountains Abbey, which is now in the hands of the National Trust, while another, Martha, Dowager Countess of Elgin (Governess to the ill-fated Princess Charlotte) was the mother of Thomas Bruce, 7th Earl of Elgin, who imported the famous Elgin Marbles.  Sir Stephen Janssen was the founder of the Battersea Enamel factory, whose boxes are now reproduced by Halcyon Days. Sir Henry Willock introduced the Persian Yellow old rose to England.  Mary, Dowager Countess of Shelburne, whose family still lives in Bowood House in Wiltshire, was the mother of the Prime Minister, the Marquess of Lansdowne.  Recent research appears to show that the Duchess of Cambridge and her Middleton family are directly descended from the Countess of Shelburne.
Very many of the people who lived in Richmond House were related to Horace Walpole, one of Twickenham's most famous residents.  His great-grandmother was Isabel, the sister of Edward Birkhead, the first owner of Richmond House. She was also the great-great-grandmother of the sculptress Anne Seymour-Conway, to whom Horace Walpole left Strawberry Hill House.
An inhabitant of Richmond House with the most surprising history was a man called Lambert Blair, who turned out to be a slave owner on a vast scale.  He left his estates in the West Indies to a nephew, and after emancipation in 1834, the nephew, James Blair Jnr, received £83,530 as compensation from the British Government for his 1,598 slaves – more money than any other slave-owner in the British Empire.  With many of the rich neighbours investing in slaves and enjoying the fruits of their labours, namely cotton, sugar and coffee, Lambert Blair's profession will have been quite acceptable, though his black servant, David Maxwell, might have caused a few heads to turn in the centre of Twickenham.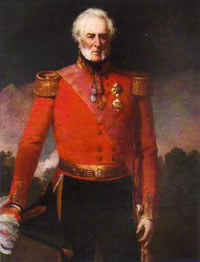 The most illustrious inhabitant of the house was Field Marshal Sir Edward Blakeney (pictured right, courtesyof Fusiliers' Museum, Tower of London) who rose to become Colonel in Chief of the Rifle Brigade – his portrait can be seen in the Fusiliers' Museum in the Tower of London. Later in life he was Governor of the Chelsea Hospital, which is where both he and his wife died; their impressive tomb can be seen in the Oak Lane Cemetery in Twickenham. As they had no children, Richmond House was left to his niece, Jane Mackintosh, and she and her husband, George, were both present at Lily Langtry's debut in the Queen's Hall (see accompanying article), which had been built on part of Richmond House's land.
We hope that you will agree that, having had a glimpse of the high calibre and stature of its inhabitants, Richmond House deserves to take its place amongst the other famous houses along the banks of the Thames, such as Marble Hill House, York House and Strawberry Hill House, at least in historical terms.  If you want to know more, a copy of the booklet can be obtained by writing to info@reic.uk.com